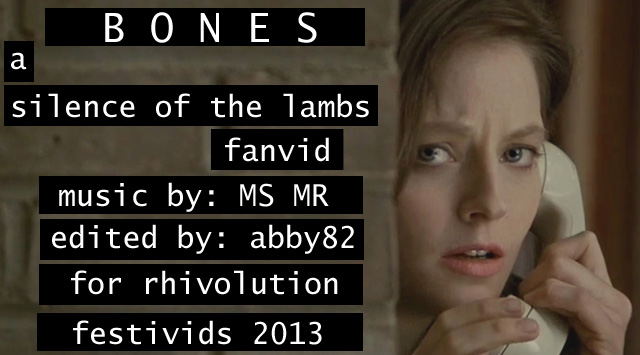 Title:
Bones
Artist:
MS MR
Vidder:
abby82
Source:
The Silence of the Lambs (1991)
Download:
Sendspace
(56.58 MB, MP4),
YouTube
(streaming), originally posted
here
,
AO3
,
Tumblr
Length:
4:14 minutes
Summary:
"Good evening, Clarice."
Notes:
Created for
rhivolution
for festivids 2013 vid exchange challenge (official pinch hit). For me, the Silence of the Lambs was a movie that seemed to always be on television. It subconsciously ingrained itself into my memory and quietly settled there. It's probably why I gravitate towards these type of movies and characters like Clarice Starling. The movie is so expertly filmed and performed. It's pretty flawless. I haven't officially participated in the exchange part of festivids since its inaugural year, but I like keeping an eye out for possible pinch hits or treats. I was initially hesitant to claim it because the task of vidding one of cinema's ultimate movie heroines was pretty intimidating. I hope I was able to do Clarice and this amazing movie justice.
( Video & Lyrics )