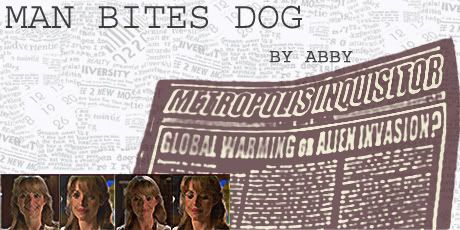 man bites dog
by abbycategory:
missing scene for "Sneeze"
rating:
G
disclaimer:
Lois don't belong to me, I'm only borrowing her; no money is being made.
author's note:
this was originally written and posted sans betaing for medie's "Because We're Awesome" all about the girls challenge on livejournal; it has now been properly beta'd, slightly altered and purposely held back until svgurl's "Lois Love Week"; a thousand thanks to the betas of this story, Novice and briee from DI. They are both incredibly awesome and this story wouldn't be what it is without either one of them. The opening line and Lois' closing remark come courtesy of briee. Any errors that remain are mine.
prompt:
Lois Lane--the Inquisitor
summary:
one fantastical headline, a grouchy editor, and an aspiring journalist all in one room.